The majority of the cats residing in the café are not immediately ready to adopt. They need some time to adjust and have to improve their social skills towards people and/or other cats first. If a cat is ready for adoption, he/she is mentioned on our Adopt page on the website with his/her own profile, and the adoption procedure can begin.

Is your furry friend not yet mentioned on our website? Be sure to follow our Facebook or Instagram page where we announce when the cats become available for adoption.
Did you see a cat on our Adopt page that interests you? Then we recommend stopping by for a visit at the café. We do our absolute best to describe each cat in a clear and precise way, for example what their forever home would ideally look like; but nothing beats meeting your possible furry friend in real life of course!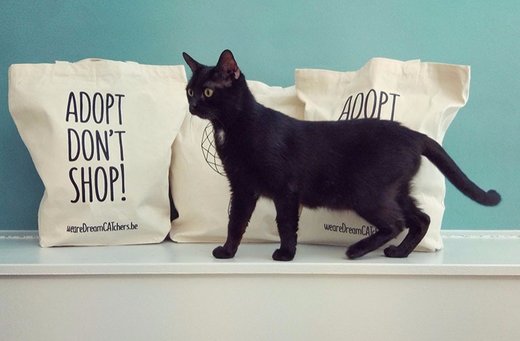 Our cats originate from the local animal shelters Dierenasiel Gent & KatZoektThuis, which are non-profit organisations that operate in the area around Ghent.
In the profile, it is clearly mentioned from which of the two organisations the two cats came before they came to the café. When you are convinced this is your perfect furry friend who you can provide with its purrrfect forever home, we can start with the adoption procedure:

Step 1: Email us for an appointment
When a profile is published from a cat on our website, you can send an email to adopt@wearedreamcatchers.be to come by for an adoption interview. Clearly mention in your title in which cat you are interested, and shortly state why you would be a perfect match.
When we receive your email, you will be put on a waiting list. We schedule interviews in the chronological order that we received requests, but the priority is nevertheless on finding the right match. Normally, the interview will take place between 10:30 - 12:00 in the morning, but if that doesn't work for you or you have another preference for a specific day or time, be sure to mention that in your email as well.
Step 2: Adoption interview
You will receive an invite for a specific time to come for an interview. During the latter, we evaluate the character and needs of the cat, but equally as important, we hear what your needs and expectations are when adopting this cat. In this way, we can assess whether it could be the right match. It is possible that you come by for an interview for a specific cat, but we might suggest another cat residing in the café that could be a better fit. Alternatively, it's possible that you are not 100% convinced of the purrfect match after the interview, which is not a problem at all.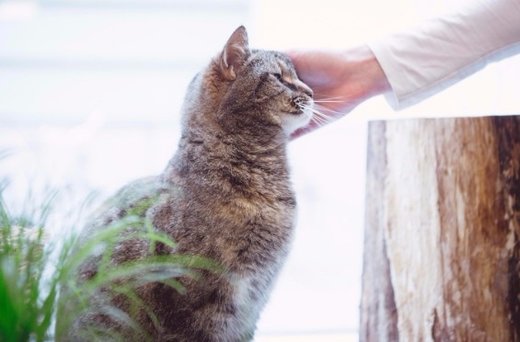 Step 3: Request for adoption
When you are convinced of your decision, we talk you through the further necessary steps to complete the adoption. We contact the shelter in question to inform them that there is a match and provide them with your information.
Next, the non-profit organisation themselves will assess your application for adoption. Depending on whether the cat originates from KatZoektThuis or Dierenasiel, it is possible that you have another interview with them specifically to assess whether you are the purrfect match. They have the right to refuse an adoption (don't worry, that doesn't happen very often).

Step 4: Paperwork
As soon as the non-profit organisation agrees to the adoption, we can discuss the further practicalities.
DreamCATchers functions as an 'in between' organisation, and the adoption procedure is dependent on which organisation the cat comes from. DreamCATchers does not earn anything by having the cat adopted through the café; all money goes directly to the shelter organisations themselves. To learn more about why you have to pay an amount to the shelters for adopting an animal, scroll down below.
When adopting a cat from Dierenasiel Gent, you first have to pay them a visit and arrange the paperwork. Adopting a cat in the shelter costs €170 and you pay this amount directly to them. You will have to sign a contract as well, after which you receive the passport of the cat.
When adopting a cat from KatZoektThuis, you can make another appointment with us and we make up the contracts and provide you with the passport. You bring €150 in cash which we transfer to them directly.
After all this paperwork is completed, you can make an appointment with DreamCATchers about when to pick the cat up from the café. This depends on how much preparation you still have to do to make your home fully cat-proof. You can always check out our awesome shop to help you.

Step 5: Pick-up
You can pick up your future furriest family member in between 18:00-19:00 on opening days for the café or shop. You bring your own carrying basket to transport the cat, or you can buy one in our shop. To reduce the stress levels of the cat during transport, it is best to bring a blanket that you can cover the basket with.
Important to mention is that we are situated in a car-free zone in the city center, so it is not possible to park at the entrance of the café. Instead, you can park your car at the underground parking lot of Vrijdagsmarkt, which is only a short walking distance to the café.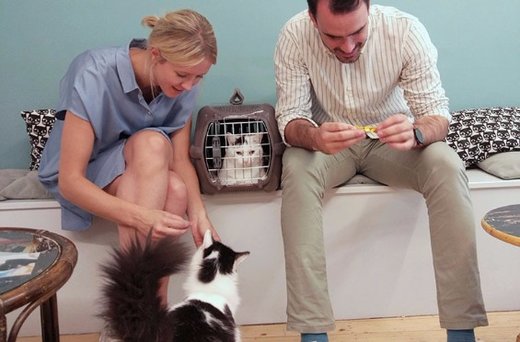 Step 6: Enjoy!
You have very much looked forward to the day that your furry friend has arrived at his/her furrever home! But make sure you give the cat plenty of space and time to adjust first. Let your newest family member come to you and not the other way around. You can always mail us if you have any questions. Don't forget to enjoy your new company!




Another important thing about the adoption is that we follow up on how the adoption is going. We check in after three weeks, three months and a year after adoption to see if everything is evolving as was intended, and you and your furry friend are happy.
Adopting an animal comes at a financial cost:

In Belgium, it is prohibited by law to give an animal away for free. We strongly encourage everybody never to give an animal away for free; it is not a disposable item; it is an animal. So, logically, you pay a fee for adopting your furry friend, as there are certain medical expenses that need to be taken care of. The costs of adoption will depend on each animal, and are also dependent on the organisation. For example, some shelters have higher discounts on certain mandatory procedures, such as castration/sterilization. Both of the non-profits we work with are thoroughly vetted, so they don't make any profit on the adoption - quite the contrary!
With the adoption cost, these things are already taken care of:

Sterilization/Castration,
Electronic chip (which you will need to register when making a first appointment with your vet),
Vaccinations,
European passport,
Feline immunodeficiency and Leukemia virus test.
This doesn't include any other medical costs that were necessary to save the cat, aside from giving it access to food and water and general medical care during the time it was staying in the shelter or at DreamCATchers.